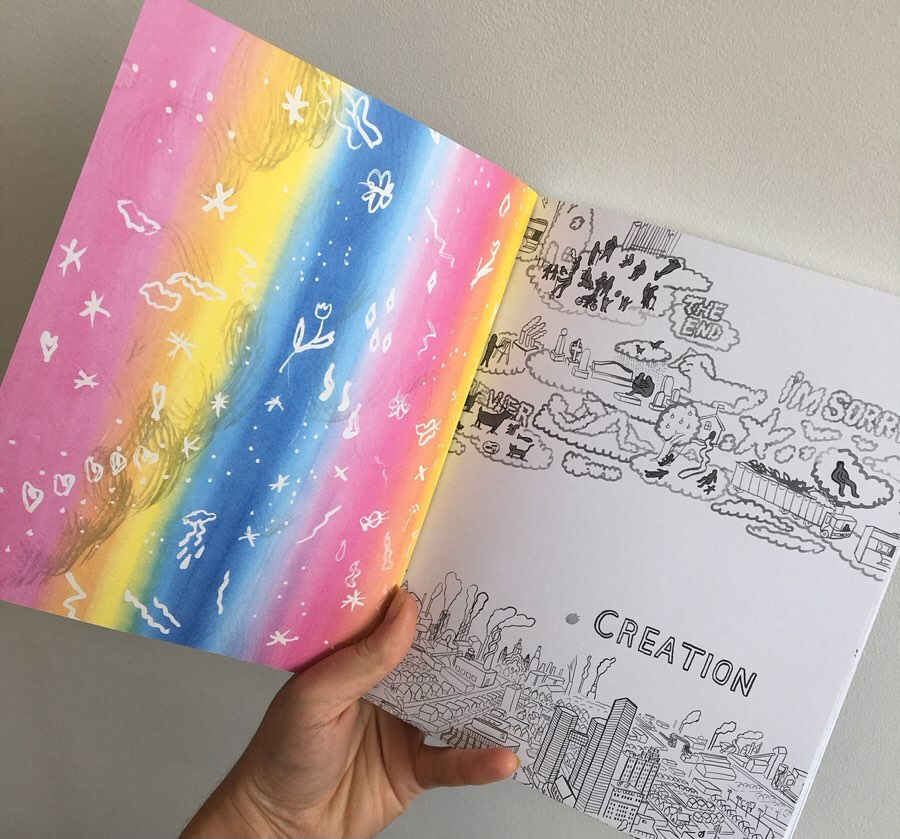 From the publisher Drawn+Quarterly:
NEW LIFE AND OPPORTUNITIES ARISE FROM THE WRECKAGE OF A NORTH AMERICAN CITY URBAN RENEWAL AT WHAT COST?
A new mother takes us on a tour of Hamilton, a Rust Belt city born of the Industrial Revolution and dying a slow death due to globalization. This mother represents the city's next wave of inhabitants—the artists and young parents who swarm a run-down area for its affordability, inevitably reshaping the neighborhoods they take over. Creation looks at gentrification from the inside out—an artist mother making a home and neighborhood for her family, struggling to find her place amid the existing and emerging communities.
While pushing her child's stroller around Hamilton, Nickerson shows us the warehouse filled with open barrels of toxic sludge, the parking lot where the city's homeless population sleeps, and the refurbished Victorian house (complete with elegant chandeliers) that is now a state-of-the-art yoga studio. Creation presents the city as a living thing—a place where many small lives intersect and where death, motherhood, pollution, poverty, and violence are all interconnected.
Drawn in evocative watercolor, Creation is unafraid to leave questions open-ended as Nickerson wanders the city and ponders just where the personal and political intersect, and where they ought to intersect.
PRAISE FOR CREATION:
"Way back in the Stone Age, when I first began making comic books for adults, it was with hopes that books like this would follow. Sylvia Nickerson's Creation is filled with the deep, complicated, messy stuff of real life—hard, sad, funny, insightful, and very rich in empathy."  — Seth, author of Clyde Fans
"Creation is an ambitious work that thoughtfully explores themes of gentrification and one's complicity therein and also talks frankly about the difficulty of making art after having children, all in Sylvia Nickerson's unique and vibrant comic art style."  — Joe Ollmann, cartoonist of The Abominable Mr. Seabrook
"Nickerson allows the profoundly personal to be completely universal in her stark, soft drawings and faceless figures. This is a deeply human, generous book."  — Eleanor Davis, author of The Hard Tomorrow
REVIEWS AND FEATURES:
"A dreamy, sprawling, meditative work….While having a child might be an excuse for profound self-absorption, Nickerson's gaze turns outward." — Profile on parents who write comics  WIRED.com
"Power—social or individual, biological or psychic—remains a haunting element, in this complex and richly ambivalent read. — Leah Sandals in Canadian Art magazine.
"Multipage spreads of people and animals lost among clouds, smog, park corners, and broken glass suggest the chaos of a city struggling to survive." — Publisher's Weekly 
"Creation has at least three meanings: art, babies, and all of existence." — Pop Matters
"…A soulful, big-hearted work of depth and vision." — The Comics Journal
"There really isn't anybody else doing comics like her" — Comicon.com
"…tying the personal and political together in an extraordinarily graceful debut" — Gil Roth of The Virtual Memories Show
"Creation gives the full picture of gentrification in Hamilton, Ontario" — Comics Beat
"Sylvia Nickerson: On being an artist and a gentrifier" interview with ROOM: Literature, Art and Feminism since 1975 
My editor expounds on various things about the book — katekennedyeditor.com
"Creation is about the cost of losing and gaining identity, both as a city and as a self." — The Winnipeg Free Press
"An uncommonly empathic, beautifully illustrated examination of the conflict between the desire to serve and improve one's community and the reality of the (underprivileged) community itself." — The Library Journal
Whether or not to have children in an unstable world is the theme of lithub.com's review of Creation and Eleanor Davis' The Hard Tomorrow
Feature on cbc.ca/books 
"A tribute to life (and death) in the city." — Entropy Magazine
30 minute author interview with Justin and Jason of RadioFreeKrypton
Year-end lists named Creation among the best books of 2019:
"Sharp, Clean, Thoughtful, Experimental" — Mike McCann on PanelPatter.com
Best Canadian Comics of 2019 by cbc.ca/books
Rob Kirby's book of the year (with Frank Santoro's Pittsburgh) at The Comics Journal
Honourable Mention in Publisher's Weekly Graphic Novel Critics Poll
GET THE BOOK at a bookstore or library, from publisher Drawn & Quarterly, from the Art Gallery of Hamilton Shop online store (search for "Nickerson" to find it), or if you must, from Amazon.
PUBLICATION DATE September 18, 2019.