---
From 2007-2010 I designed and painted a mural for Toronto caterer Carole Ferrari, proprietor of The Local Cafe. The murals were painted on the exterior of a former mini school bus that Carole converted into a kitchen.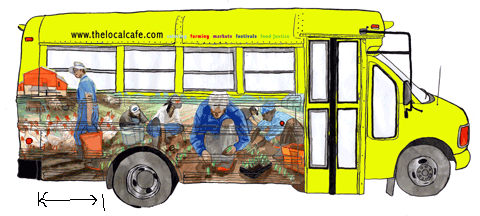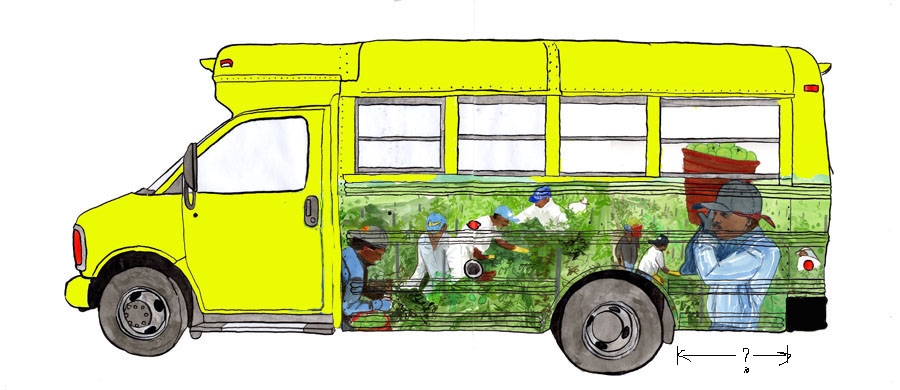 The project required many brainstorming sessions with Carole about how the paintings would reflect her vision. One of the themes that emerged was Carole's commitment to following the footsteps of her culinary heroes by making choices that support fair wages in the agriculture industry. Although Carole is a cook she spends a lot of time thinking about how the food was produced, before it became her ingredient.
On the driver's side of the bus we depicted farm buildings and animals derived from sketches and photos made at local Ontario farms. The foreground figures were drawn from photos of Carole's heroes who inspire her philosophy of food production.
In the artwork Carole also wanted to speak to the industrial farming and migrant labour force who may have little control over their work and realize disproportionately small profits from the work they do. Celebrating labourers whose work can be forgotten once the food they produce makes its appearance at our table, we took inspiration from the Coalition of Immokalee Workers in California, whose landmark campaign forced major North American fast food companies to increase the price they pay for tomatoes.
On the back of the bus is the image of a farm meal. The figures from both side murals come together for an outdoor meal, eating the food their labour has grown.
---