---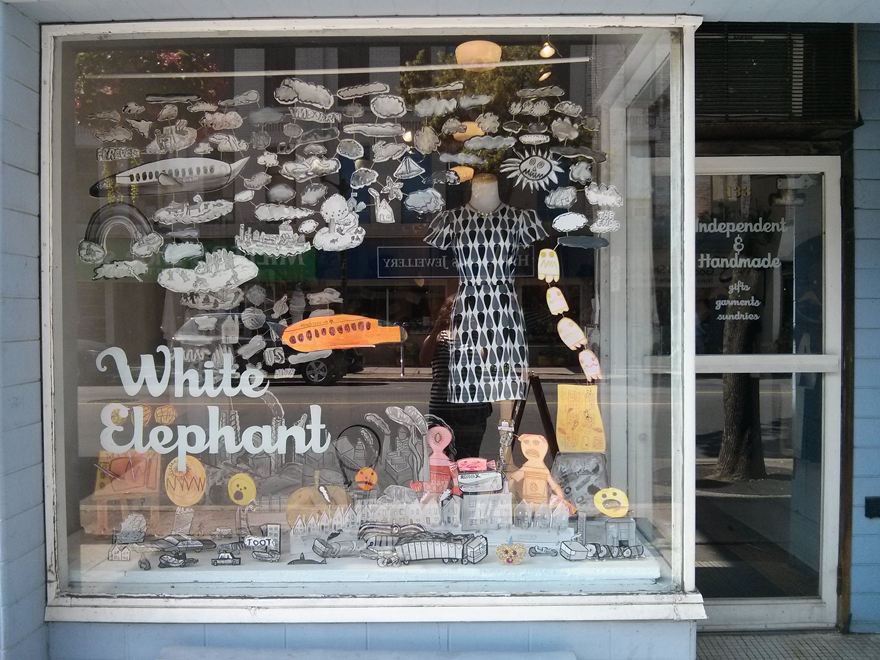 For the Supercrawl 2016 festival, my challenge was to create something to display in the store window at White Elephant.
At that point I was pretty deeply involved in writing comics for my book, Creation. So I decided I could expand upon that world and illustrate it in three dimensions, making the comic drawings come to life by having them pop up and out of the page. I did this by making ink drawings and ink wash on foam core then cutting it out. The cut outs I strung together with nylon or poked with toothpicks to make pieces stand up.
My son wanted to get in on the action and he started taking over my materials. He drew some fantastic monsters, pumpkin ghosts, a submarine, an airplane, a haunted house, and other creatures. His characters staged a take-over in the black and white city I had constructed. The pumpkin ghosts were my daughter's idea.
To complete the concept, we had a small zine printed in the comic book-like style that the window had "popped" out of. To balance our efforts we collaborated on the zine "Watch Our for Monsters James Street North" which features a mix of drawings between my son and myself. The zine was offered for free during the Supercrawl festival weekend, 9-11 September 2016.
---